Event Details
The Knot
18th Jun 2019 - 6th Jul 2019

THE KNOT
BY DAN DANIEL
"MARRIAGE IS THIS CONTRACT EVERYBODY SIGNS WHILST IGNORING THE FINE PRINT – BUT WE ALL KNOW WHAT IT SAYS.
IT TELLS US THAT THIS RELATIONSHIP WILL BECOME STALE AND MECHANICAL AND IT WON'T BE LONG BEFORE EVERYTHING THAT CAN BE SAID HAS BEEN SAID; EVERY EMOTION YOU CAN FEEL TOWARDS THIS PERSON, YOU WILL HAVE FELT.
YOU WILL EXHAUST EVERY POSSIBLE OPPORTUNITY FOR EXCITEMENT, ANY CHANCE FOR DISCOVERY.
MY POINT IS, BELIEVE ME WHEN I SAY I KNOW WHAT I'M GETTING MYSELF IN TO.
I'M NOT TRYING TO SAY MARRIAGE IS BULLSHIT.
ALL I'M SAYING IS PICK THE RIGHT PERSON."
Aiden is trying to bring his Argentinian fiancé to the UK but their relationship is cracking under the weight of bureaucracy.
Imran left his Pakistani family to marry an Indian. After twenty years of marriage, he has just discovered his wife cheating and now has to endure a lengthy divorce process.
Two men - different in age, ethnicity, and personality - face parallel struggles when it comes to making their marriages work.
Told through funny and poignant monologues, Aiden and Imran share intertwining stories that confront an uncomfortable question: when is it worth untying the knot?
-------
Based on the lived experiences of the actors themselves, 'The Knot' is an incredibly intimate, personal and timely show that addresses themes of masculinity, culture clash and how the government can become too involved in our romantic lives.
THE KNOT IS PERFORMED BY CAOLÁN DUNDON & AIYAZ AHMED, AND IS WRITTEN/DIRECTED BY DAN DANIEL.
The show is transferring from its successful run at the Tristan Bates Theatre, where it enjoyed a great audience and critical reception.
★★★★★ - London Theatre Review
★★★★ - The Spy in the Stalls
★★★★ - London Pub Theatres
★★★★ - CloseUp Culture
★★★★ - North West End
★★★★ - Aaron Whittington
★★★★ - West End Wilma
-------
Dan Daniel is an award-winning London-based director, writer and producer for both theatre and film. His short films, The Face of Chance(2015) and Web (2018) have been collectively accepted in to eight international film festivals, winning the Selby International Audience Award and the KCLSU Film Festival Best Short Film. His adaptation of Nikolai Gogol's Nevsky Prospekt played at the Pentameters Theatre for two weeks. Fresh from its successful Tristan Bates Theatre run, The Knot is his longest and most ambitious run yet.
Caolán Dundon is an actor from Kildare, Ireland. He has appeared in All About Eva (2014), Savage (2013), and Promise (2013). He has also appeared in several stage projects with Kildare Youth Theatre, notably Romeo and Juliet (2014) playing Romeo, and in Macbeth (2013) playing Macduff. Caolán also has extensive experience producing and directing socio-political work. Examples of this include directing a devised piece in response to the 2018 Marriage Equality Referendum in Ireland, which toured Glenrothes, Scotland. He further directed a group of young Irish adults based around the question "What is God?", which toured around Vienna and Baden, Austria.
Aiyaz Ahmed is represented by Lee Morgan and has starred in over 63 film and theatre productions. These include both commercial, film and television productions. Examples include Transformers: The Last Knight, Poison and Pyaar at Artsdepot, and Being Ernest by The Tamarind Theatre Company.
Suitable for ages: 12+
Running time: 1 hour 45 minutes approx. (including an Interval)
POST-SHOW EVENTS
Saturday 29th June: Post-matinee show new writing event 'Walking Away: When Love Isn't Enough' 5-7pm - FREE to ticket holders or £4.
Wednesday 3rd July, 1.30pm: Post-show Q&A - FREE to ticket holders.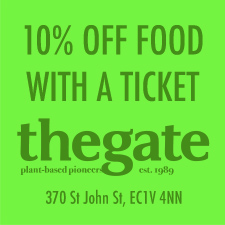 Tuesday 18th June - Saturday 6th July 2019
Tuesday - Saturday 7.30pm
Wednesday 3rd July matinee 1.30pm
TICKETS £15 (£13 CONCESSIONS)
10 £10 'TENNER TICKETS' AVAILABLE PER SHOW IN FINAL WEEK
WEDNESDAY MATINEE TICKETS £8
For further ticket information please click here or call 0333 012 4963 for all booking enquiries.
The Box Office will open 30 minutes before the performance for cash / card sales and collection of pre-booked tickets.
Latecomers will not be admitted.
| | |
| --- | --- |
| | |