We don't want you to think for a second we're not giving 110%, giving you a mathematical impossibility of ourselves, a number invented for us.
Following the success of Wank, we are pleased to present (sorry) by Susie Sillett.
Originally commissioned by Women & Theatre and performed as part of Starting Out at the Birmingham REP and Hackney Showrooms, (sorry) will be a work in progress sharing directed by Jennifer Davis and performed by Phoebe Frances Brown.
A woman, angry and guilty, perpetually frozen in the feeling of having fallen short, stands before us - pushed by the desperate need to share and the overwhelming sense that she shouldn't. Caught in three moments of her life: her day off from work, dinner with an old friend, a holiday trip to Iceland.
Taking you on a journey from the aisle of a supermarket to the edge of a volcano, REP Foundry graduate Susie Sillett has written a highly-charged trilogy of monologues exploring the experiences of young people in the 21st century.
We are holding two sharings on Sunday 17th and Monday 18th September at 7.30pm, with a post-show Q&A taking place after Sunday's show.
After the research and development period the production will premiere at the Birmingham REP from 9 - 11th November. The company hope to mount a nationwide tour in 2018.
Please note - this sharing will take place at the Candid Arts Cafe, just across the road from the Old Red Lion Theatre. See map below for directions.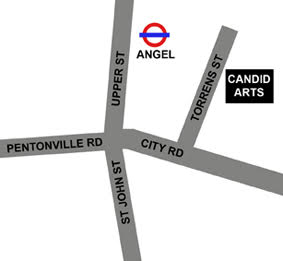 DIRECTED BY JENNIFER DAVIS
PERFORMED BY PHOEBE FRANCES BROWN
Praise for Starting Out -
(sorry) by Susie Sillett was the strongest of the five plays, with the exploitation of labour it's prevalent theme. Phoebe Brown's understated, awkward but quirky performance had a controlled command of the space, telling her story with the honesty it deserved - Plays To See, 2016
Writer Susie Sillett shows the constant change of emotions when it comes to having days off in her monologue (sorry), which was performed by the marvellous Phoebe Brown. Starting with a can of chickpeas, Sillett shows the escalating consciousness and an internal reminder that 'people have it worse', which doesn't benefit any current situation. Brown embodied Sillett's impassioned piece with a particularly touching connection, reminding the audience that this truly is a real-life situation. Brown did well to inhabit the feeling of constantly striving to make a difference - Behind The Arras, 2016
Phoebe Frances Brown [is] particularly impressive...This is important drama – both a justly furious rallying call to anyone who's experienced something similar, and an invaluable insight into the situation for those that haven't - What's On Live Birmingham, 2016

Sunday 17th and Monday 18th September 2017

TICKETS £7.00

Or call our box office on 0844 412 4307
Latecomers will not be admitted.